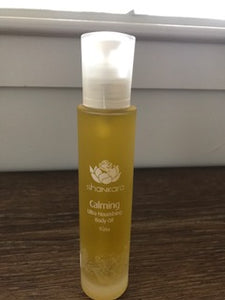 Shankara's Calming formula with calming herbs soothes your body and relaxes your mind

Our ultra-nourishing, Calming Body Oil is rich in nutrients and antioxidants and is intensely moisturizing, absorbing easily into your skin. 
Essential oils help soothe emotions and encourage your body to relax at the end of a long day.
Use daily as a moisturizer and enjoy the anti-aging properties of Calming Oil's natural antioxidants while you revel in the aromas of exotic herbs like sandalwood, cardamom, vetiver, ginger, gotu kola, dashmoola, borage, and clary sage.
Warm the oil for a full body massage, or dim the lights and pour a generous amount into a relaxing bath.
Your Dollars Support Humanitarian Efforts. Shankara donates 100 percent of net profits to the non-profit International Association for Human Values (IAHV), which supports humanitarian projects around the world.