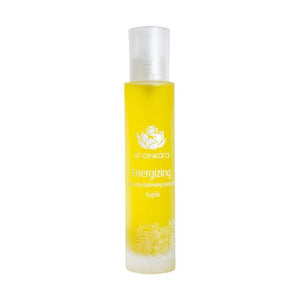 Energize your day with this artfully selected blend of essential oils and herbs. Our stimulating formula lifts your mood and rids your body of fatigue or lethargy while nourishing your skin with the anti-aging properties of natural anti-oxidants.
Energizing Oil is light and non-greasy and readily absorbs into your skin.
Use it as a nourishing daily moisturizer, or invigorating bath or massage oil. The uplifting properties of exotic herbs like Bladder-wrack, Cassia, Sarsaparilla, Butcher's Broom, Bitter Orange, Juniper, Basil, Cedar-wood, Ginger, Neem, Hibiscus, Eucalyptus and Gotu Kola will energize and refresh your day. 
Your Dollars Support Humanitarian Efforts. Shankara donates 100 percent of net profits to the non-profit International Association for Human Values (IAHV), which supports humanitarian projects around the world.