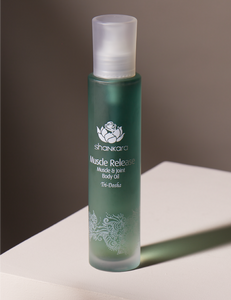 Natural Pain Management for Ailing Muscles and Joints
You'll breathe a sigh of relief when you apply our Muscle Release elixir to aching joints and muscles.  Our deeply penetrating and unique formula is designed to soothe the root causes of pain, inflammation and swelling. Its use supports the natural intelligence and healing wisdom of the body. 
Our all natural formula is toxin and cruelty free and quickly absorbs into your skin with ingredients such as essential oils, and moisturizers plus powerful herbs like Frankincense, Arnica, Cedarwood, Sweet Birch, Devils Claw, Boswellia, Helichrysum, Lavender and Turmeric.
Use our aromatic formula daily to invigorate your senses as it soothes away pain. Also Ideal for deep tissue massage.
Your Dollars Support Humanitarian Efforts. Shankara donates 100 percent of net profits to the non-profit International Association for Human Values (IAHV), which supports humanitarian projects around the world.