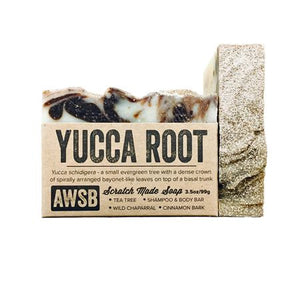 Yucca Root: 
This bar
featuring a germ-busting tea tree essential oil blend
, is a wildly popular all-over shampoo & body bar for those who like to keep it simple.
After cleansing your body, just rub the bar over your wet hair a few times, put it down, and then work up a lather as you would with regular shampoo. Your hair will feel differently than when you shampooed with synthetic products, so give yourself a week or so to adjust.
Ingredients:  saponified certified organic vegetable oils (extra virgin olive, coconut, sustainable palm, sunflower, castor, jojoba), distilled water, essential oils (tea tree, peppermint, lavandin, cedarwood), certified organic aloe vera juice concentrate, certified gluten free oats, sea salt, wild yucca root, certified organic cinnamon, wild chaparral, black willow bark extract.

NOTE: Natural colorants are powerful! We recommend using a dark colored washcloth with this bar.
 3.5 oz. boxed shampoo bar