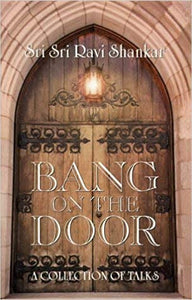 Discover the love and the peace that you seek
A collection of talks from Gurudev Sri Sri Ravi Shankar, Bang on the Door will surprise you with its profound yet simple wisdom.
It calls you back to your source, shows you the way to inner transformation and illuminates the way as it guides you to bang on your own inner door.
Only rarely does the Divine shine forth as brightly as it does in Gurudev. As a child he often fell into spontaneous meditation or surprised his elders by reciting scripture.
Today he speaks regularly to worldwide audiences. The joy and deep, practical wisdom that he expresses have helped millions discover their own inner freedom and joy.