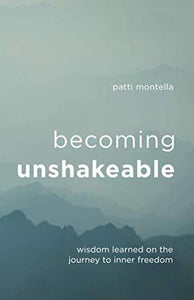 Life has a way of coming at you fast...
When it does, you may find yourself searching for answers, like author Patti Montella did after the death of a beloved friend and the unraveling of her marriage.
It was then she met renowned spiritual leader Sri Sri Ravi Shankar who inspired her to leave her corporate career and dedicate her life to sharing the power of breathwork, ancient wisdom, and meditation.

Becoming Unshakable is a rare inside look into the life and transformation of a spiritual seeker who rose above countless obstacles, learned from her failures, discovered her inner resilience, and uncovered the source of happiness.
She also reveals the pivotal lesson she learned after decades of searching for the Divine: it had been with her from the beginning.
This book rewards you with life-changing Wisdom Lessons that help you develop newfound self-awareness and start you on a path toward greater clarity, happiness, inner strength, and fulfillment.