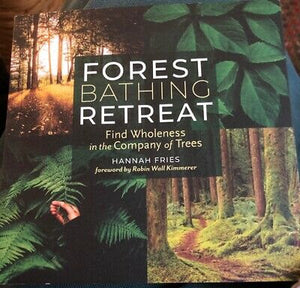 Find wholeness in the Company of Trees

by: Hannah Fries
People have been retreating to the woods for quiet, meditation, and inspiration for centuries, and recent research finds that time spent in the forest doesn't just feel good but is, in fact, good for you.
Inspired by the Japanese concept of shinrin-yoku, or forest bathing, poet Hannah Fries invites readers to bask in the company of trees, whether in a city park or a rural nature preserve.

Fries combines her own reflections and guided mindfulness exercises with a curated selection of inspirational writing from poets, naturalists, artists, scientists, and thinkers throughout the centuries and across cultures, including Japanese haiku masters, 19th century European Romantics, American Transcendentalists, and contemporary environmentalists.
Accompanied by beautiful forest photography, Forest Bathing Retreat is a distinctive gift that invites frequent revisiting for fresh insights and inspiration.