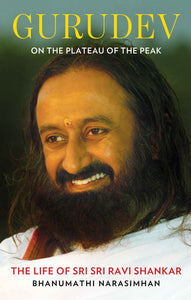 It was an era when the wisdom of yoga had been buried under years of ritual practices, when religion outweighed human values, when games were becoming wars and wars were being played like games.
In such a time, in a quaint village in south India, a young boy was deep in meditation.  "I have family everywhere. People are waiting for me," he would say.
Nobody believed him then. But they do now as millions seek him out to discover themselves.
Today, his sublime presence and pragmatic teachings continue to foster the values of joy, peace and love around the world. His transformative art of breathing, the Sudarshan Kriya, is a household practice, an alternative way of life that inspires people to seek self-realization.
He became the guru who makes the ethereal tangible, and brings about a profound shift in every sphere of human endeavor—from art to architecture, health care to rehabilitation, and inner peace to outer dynamism.
This book is an intimate and affectionate account of the life of Gurudev Sri Sri Ravi Shankar written by his sister Bhanumathi Narasimhan, a first hand witness to the unfolding of his mystical life.  It chronicles his journey from carefree child to teenager often found in the company of saints, and from young meditation teacher to revered spiritual Master.
Gurudev: On the Plateau of the Peak is an effort to fit the ocean in a teacup, offering readers a sip of infinity.