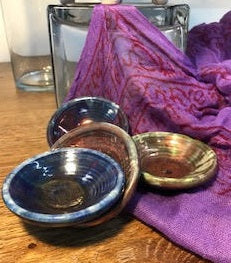 Keep gratitude at the forefront of your life
With these lovely ceramic, raku blessing bowls created by nature-inspired artist Jeremy Diller.

Keep paper and a pen handy and write expressions of gratitude to fill up your blessing bowl. Use for blessings received and for those you affirm are already here, but haven't yet arrived. 
Ceramic blessing bowls are hand made with a traditional raku firing process that means no two pieces are exactly alike. Shipped in a gift box.
Dimensions:  2.5" wide by .75" high