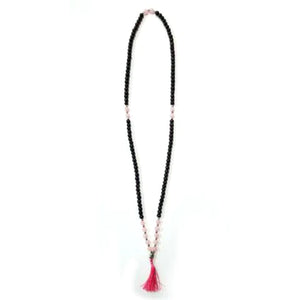 Rosewood Rose Quartz Mala

    •    36" Length


This mala is made of rosewood beads and rose quartz stone with a tiny Buddha head at the end where tassel hangs.

Rose Quartz represents universal love and is said to restore trust and harmony in relationships.
Prayer mala beads are used for keeping count while reciting, chanting, or mentally repeating a mantra or the name or names of a deity. To use your mala, start with the first bead next to the "guru" bead. Hold the bead between the index finger and thumb and recite your mantra once out loud of silently then move on to the next bead with a rolling motion of your thumb, recite your mantra again and repeat.
One needn't be religious or have a spiritual practice to wear mala beads—you can simply wear them as a reminder of personal intention you've set, or when seeking a calmer mind, body, and spirit. They are increasingly popular as jewelry for their simple style and use of fine woods, various beads and semi-precious stones.