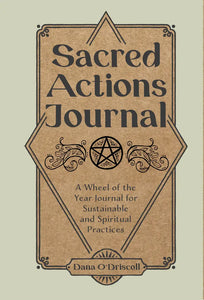 Sacred Actions Journal
Spiritual journaling is a powerful, transformative practice that allows for deeper understanding of yourself and your place in the world.
    Each of the eight wheel-of-the-year chapters offers "sacred actions" or ways of integrating nature spirituality and sustainable living.
    Every beautifully illustrated chapter offers themes for journaling and meditation, core spiritual activities that can prompt reflection, and a creative journaling strategy to deepen your writing practice.
200 pages
    •    Dimensions: 6″ x 9″ (15.2 x 22.9 cm)
    •    Made in India