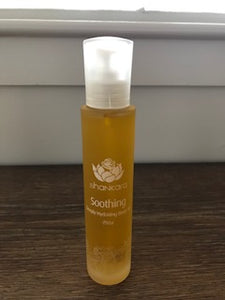 Relax and De-Stress
from your busy life with our Soothing blend that cools, uplifts and instantly de-stresses with essential oils and carefully selected herbs.
Sandalwood, Geranium, Orange Sweet, Neem, Vetiver, Calendula and Lemon Balm also help calm irritability, anger and over-critical thinking.
Soothing Deep Hydrating Body Oil's formula is rich in nutrients, antioxidants and anti-aging properties and is excellent for alleviating the pain of irritated, inflamed, parched, chapped or sun-burned skin. 
Light and non-greasy our Soothing Oil absorbs quickly into your skin and goes right to work.
Use in massage, as a bath oil, or as a moisturizer.
Your Dollars Support Humanitarian Efforts. Shankara donates 100 percent of net profits to the non-profit International Association for Human Values (IAHV), which supports humanitarian projects around the world.