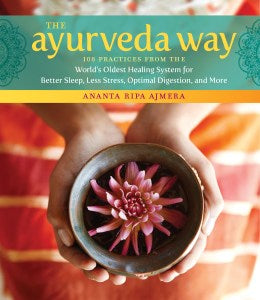 The Ayurveda Way: 108 Practices from the World's Oldest Healing System for Better Sleep, Less Stress, Optimal Digestion, and More
By: Ananta Ripa Ajmera
Discover how the lifestyle teachings of Ayurveda, yoga's sister science, can transform your everyday life.  Celebrated Ayurveda teacher Ananta Ripa Ajmera offers 108 accessible, holistic practices to help you achieve optimal digestion, improve sleep, diminish stress, and find inner balance. 
Diet is key, and many essays are accompanied by recipes that incorporate spices such as turmeric, cumin, ginger, and mustard seed into daily meals. In addition, meditation, yoga and breathing exercises, and self-care practices such as oil pulling and massage, make this time-tested wisdom available to contemporary holistic health enthusiasts—even beginners.
Check out this post on summer recipes to beat the heat with Ayurveda.