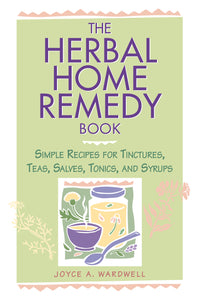 Simple Recipes for Tinctures, Teas, Salves, Tonics, and Syrups
By: Joyce A. Wardwell
Acquire herbal healing wisdom with this guide to gathering, drying, storing, and blending 25 common herbs.
Joyce A. Wardwell shows you how to build your own all-natural home medicine cabinet, providing simple recipes for soothing tinctures, salves, tonics, syrups, teas, and lozenges.
With gentle, plant-based solutions to ailments ranging from muscle cramps and indigestion to dry skin and sore throats, this comprehensive guide is full of natural remedies that will keep your whole family healthy. 
Shipping weight:  10 oz.